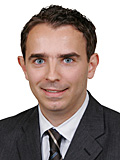 Immigration Attorney
dimo.michailov@nullcilawgroup.com
P: 888.878.4721 | F: 202.280.1346 | vCard | Consultation
1725 I Street NW, Suite 300
Washington, DC 20006
As the senior attorney and founding member of CILG, Mr. Dimo Michailov is at the forefront of the immigration law community. He has successfully steered CILG towards continued sustained growth while providing a uniquely sophisticated level of personalized services and advice. Due to his leadership and vast experience with immigration and labor laws, the firm now represents individuals from more than 30 countries as well as companies and organizations ranging from small entrepreneurs and burgeoning non-profits to multinational corporations.
As an immigrant and business owner, Mr. Michailov is uniquely qualified to understand both the needs and anxieties of foreign nationals while simultaneously balancing the business and human resources concerns of their employers. Mr. Michailov has a strong background and intricate knowledge of the nuances of corporate and labor immigration law, particularly in connection with the various types of work visas, employment-based permanent residency (green cards) and immigration agency audits of companies.
Most recently, Dimo Michailov has successfully represented a number of U.S. employers and organizations in obtaining employment-based immigration benefits for their employees and stakeholders. Mr. Michailov has also served U.S. and foreign nationals in petitioning for immigration benefits for relatives and for themselves, most notably in EB-1 extraordinary ability and EB-2 national interest waiver categories.
Mr. Michailov earned his Juris Doctor (J.D.) degree from Georgetown University Law Center in Washington, DC.  In addition to his District of Columbia bar membership, Mr. Michailov is also admitted to practice in the State of Maryland.   He is a distinguished and active member of a number of professional organizations, including the American Immigration Lawyers Association (AILA), the Society of Human Resource Management (SHRM) and the American Bar Association (ABA) among others.  He is fluent in Bulgarian.
Before the Capitol Immigration Law Group,  Mr. Michailov was the information security and privacy officer for Georgetown University Law Center.  Mr. Michailov also has gained valuable corporate and transactional law experience as an associate at a major law firm where he advised mid- to large-size companies on a variety of matters.  His experience includes clerking for the Internet Law Group in Arlington, VA, in addition to founding and editing  Cybercrime Law, an Internet news and commentary magazine.
Education
· Juris Doctor, Georgetown University Law Center
· Bachelor of Science, Concord University
Bar Admissions
· District of Columbia Court of Appeals
· Maryland Court of Appeals
Memberships and Affiliations
· American Bar Association
· American Immigration Lawyers Association
· Information Security Committee, American Bar Association
· International Association of Privacy Professionals
· International Information Systems Security Certification Consortium
· Internet Law Committee, American Bar Association
· Maryland State Bar Association
· Netsecurity Corporation, Advisory Board member
· Privacy, Security and Data Management Committee, American Bar Association
· Society of Human Resource Management