On April 3, 2017 the U.S. Citizenship and Immigration Services (USCIS) will start accepting applications for one of the most popular U.S. work visas, H-1B, for fiscal year (FY) 2018.    Our intelligence and past experience suggest that this year's H-1B cap season will be very short — five business days.   Our office is already preparing a number of H-1B applications for our clients and we urge employers to prepare for a very short H-1B season by identifying and initiating H-1B sponsorship cases now.
Background of the H-1B Program and Its Annual Cap
The H-1B visa category was created in 1990 through the Nationality and Immigration Act of 1990 (INA).  Upon the creation of the H-1B visa type,  INA imposed a numerical limitation ("cap") on the number of H-1Bs that could be issued in each fiscal year.  This "cap" (or quota) has varied over the past years but is set to 65,000 per year for FY2018 starting on October 1, 2017.
H-1B is a nonimmigrant visa classification used by U.S. employers to hire a foreign national who will be employed temporarily in the U.S. in a specialty occupation (generally one which requires a bachelor's degree or higher) or as a fashion model.  Each year, by law, USCIS can approve up to new 65,000 H-1Bs, thereby allowing many private and employers to hire temporary qualified workers.   H-1B non-immigrants who work at (but not necessarily for) universities and non-profit research facilities are excluded from the numerical cap (see below for discussion of cap-exempt employers).
There are certain exceptions to the congressionally-mandated maximum of 65,000 H-1B visas per fiscal year.  The first 20,000 H-1B visas issued to alien workers who obtained their master's degree or higher from a U.S. university are exempt from the 65,000 cap;  H-1B visas issued to such U.S. master degree or higher holders subsequent to the first 20,000 are then counted against the overall 65,000 cap.    Additionally, the cap does not apply to foreign nationals in the U.S. who are in lawful H-1B status and who are seeking to extend their visa or change employers.
The H-1B Quota and Expectations for This Year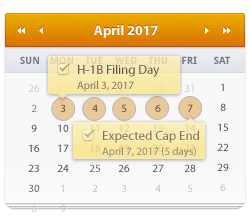 As discussed above, the H-1B cap "opens" on Monday, April 3, 2017 and will remain open for new H-1B filings until the 65,000 H-1B limit (plus the 20,000 for U.S. masters degree holders) is reached.  While it is impossible to predict exactly when the FY2018 H-1B cap will be reached, it is helpful to provide some context.  During the last few years, the H-1B cap was met the first week (five business days) of filing, and we anticipate that this will be the case this year as well.
Historically, for FY2017 (last year), there were 236,000 applications and the cap was reached over the first five days.  Previously, for FY2016, there were 233,000 applications and the cap was reached over the first five days.   Similarly, in FY2015, there were 172,500 applications and the cap was also reached over the first five days of the filing season.    This trend of increasing of H-1B cap filings, together with the improving economy in the United States, suggests that this year's H-1B cap will also be oversubscribed even after only five filing days and will be subject to a random computer-generated lottery.
While it is impossible to predict with certainly at this time how quickly the cap will be reached, it is our expectation that the H-1B cap  will be open for only 5 business days and we are advising our clients to be prepared for H-1B cap case filing on April 3, 2017.
Over the next two months our office will monitor very carefully the H-1B application demand and we will be providing timely updates on the H-1B cap filing season, including on cap demand and expectations.   Please check back with us often or subscribe to our Weekly Newsletter to receive news and updates related to this H-1B filing season.
High H-1B Cap Demand Expected:   How and When to Prepare?
The expected heavy demand in this H-1B filing season means that all H-1B petitions should be submitted on or very shortly after April 3rd.    It should be noted that it takes at least 10-14 days to prepare and file an H-1B petition (due to the LCA filing requirement, which takes up to 7 business days).  First-time H-1B employers should allow an additional 3-5 days.   Therefore it is critical to plan ahead to maximize your chances of success.
We recommend that employers start working with their immigration attorneys (our office is happy to help – contact us) NOW to review the prospective H-1B candidates and to start the preparation process.     Some employers may respond that it is too early to start the H-1B process — we disagree.    Starting the process as early as January is the perfect time to ensure that an unanticipated issue would not derail the one-time opportunity to file an H-1B under the cap.   For example, some employers' federal tax ID (FEIN) will have to be "registered" with the DOL database in order to even file an LCA.   Some job positions run into prevailing wage issues which can take weeks to clear with DOL and even if all goes well, it is always best to be ready with the process and the paperwork early.
Proposed H-1B Cap Timeline:
January and early February – employers work on identifying prospective H-1B candidates for April 1 filings, those include students working on F-1 OPT, new college hires in F-1 status and new hires from abroad.  Some employers may have L-1 or TN workers whom they may want to switch to H-1B.
February 1-15 – employers work with attorneys and employees to gather the required information from the company and employee.
February 15-28 – attorneys file the Labor Condition Application (LCA) with DOL (DOL takes up to seven business days to process an LCA; and if the employer's FEIN has not previously been verified, this may take additional 3-5 days.)
March 1-15 – attorney finalizes relevant H-1B documents;  employers sign and complete the paperwork and send it to the attorney's office (original documents are required for submission with USCIS and early courier delivery should give enough time for unanticipated – even in March – weather delays).
March 15-30 – attorney assemble final petition filing packages and complete final quality assurance checks.
April 3 – attorney files the H-1B petition with USCIS by courier delivery.
Action Items
We urge all employers who are considering filing H-1B petitions under this year's H-1B cap to start the preparation process.   Our office stands ready to assist employers in the process and our office is already in "H-1B cap mode" for a number of our clients have already started the preparation process.    Please contact us if we can help you in evaluating and, possibly, in preparing an H-1B cap case this April.
Webinar Discussion – Archive
Our office has been very active during the H-1B cap seasons of the past and we are gearing for another busy H-1B cap season.   On January 31, 2017, we held are going to hold a live webinar session to provide guidance and engage in a discussion about the upcoming H-1B cap season and how employers and employees can maximize their chances of success.  We invite you to join us – the webinar is FREE but space is limited so please register now.
Webinar: Opening of the H-1B Visa Cap – Are You Ready?
January 31, 2017 at 1 pm ET
Conclusion
While we do not yet know how quickly this year's H-1B cap would be reached, indications of the heavy interest early this year and last year's historical data suggest for a very short (5-day) H-1B cap filing window.    In fact, we urge our clients and readers to assume that the H-1B cap season will last only five days and to aim for April 1, 2017 H-1B petition filing.
If you wish to start a new H-1B work visa petition under this year's quota, or if our office can be of any help, please contact us as soon as possible.  Our attorneys and professionals stand ready to review your case, as part of our free initial consultation, and will help you prepare a strong H-1B application.